Consumer Reviews of
Owens Corning shingles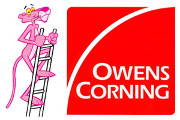 Read 82 Owens Corning Shingle reviews or write your own review.
Popularity:
#
2
of 18 brands of shingles
67% of customers recommend
Very Satisfied

50

Somewhat Satisfied

5

Neutral

1

Somewhat Unsatisfied

3

Very Unsatisfied

23
The opinions expressed in these reviews are the opinions of consumers that submitted reviews to Roof.info. They do not necessarily represent the opinions of Roof.info.
Read more about Owens Corning shingles
Read reviews of other Shingle brands
Write a review
---
Date created: 2011-12-21 Location: Killeen, Texas
Model: Weather Guard HP

Satisfaction Rating:
Review
:
"Roofing that will stand the test of time!"
We have had our Owens Corning Shingles on our house for five years and have not has any problems at all. With living in Texas, you get the heat of the summer, storms in the winter, and then the occasional freezing temperatures. I picked these shingles due to their variety of colors and wind resistant factor of 130 MPH winds. All of this can play toll on a roof, and so far these shingles have been a testament to the Owens Corning Brand. So far I have not had to replace any shingles yet, but I know that typically some maintenance needs to be done at the 10-year mark. I know that my parents recommended Owens Corning Shingles to my husband and I when we built our house and I know that I will definitely recommend this brand to all my friends and neighbors that may be in the market of replacing their shingles.
---
Date created: 2011-12-14 Location: Austin, TX
Model: JL12

Satisfaction Rating:
Review
:
"Amazing value for the money"
Great roofing shingles. I was pleasantly surprised with the quality and the way it looks. We got them for my husband's shop back over two years ago and now we are seriously considering putting them onto our house. It looks like we just put it up yesterday that shows the true quality of it. It stands up to the wear and tear of life. It is definitely a great product that we are proud to have. The setup was quick and easy to understand. It was very easy to put up. We do not have any complaints at all about it yet. I am very satisfied with our choice. The price was very affordable and fair for what you get. It is by far worth it. We will probably put it on our house when the weather gets warmer. Overall great choice and I highly recommend it you will not be disappointed!
---
Date created: 2011-12-13 Location: Tampa, Fl
Model: Premium Shingles Designer Colors

Satisfaction Rating:
Review
:
"High quality roofing shingles"
I have lived in my house for almost three years now. My wife was the one who chose what designs we would use for our home and what types of materials and brands we would use to fix it. She decided to pick the Duration Premium Shingles Designer Colors Collection. It was a great decision because after three years of living here I have never had a leak, and there is lots of rain in Florida. When you buy the Duration Premium Shingles Designer Colors Collection you're not just buying the shingles themselves. You are also buying a lifetime warranty that the company gives to anyone who purchases this line of roofing shingles. Besides the durability of the roofing shingles being amazing, the actual design is itself is one of beauty and art. Each shingle is a different shade than the shingle next to it, giving the roof a beautiful colored pattern.
---
---
Date created: 2011-12-12 Location: Milford, NH
Model: Berkshire Collection

Satisfaction Rating:
Review
:
"Why I Love The Owens Corning Shingles"
We purchased our home approximately 7 years ago, and since moving in had always discussed the fact that we needed to redo our roof. It was a roof that had many shingles layered on top of each other (3 layers to be exact) and we had unsightly moss growing on them, which was frustrating. We decided last year to purchase the Owens Corning Berkshire Collection shingles and have been very happy since. The homes seems to retain more heat than prior to, and the moss has been gone and not grown back. They are a very attractive product, and very low maintenance. The only drawback was the price, they are not a cheap product, but in taking to consider the lifespan it was well worth the price. I have not needed any repair to the shingles, however, have only had them for approximately one year time at this point. I have recommended this brand to many people in our neighborhood as they have asked what we used due to the dramatic cosmetic difference in our home.
---
Date created: 2011-12-08 Location: Mundelein, IL
Model: Supreme

Satisfaction Rating:
Review
:
"Owens Corning for Longevity"
These shingles have been installed for several years without any obvious wear or degradation. The color is the same as when they were first installed. I cannot find any color difference from the back of the house to the front even though they face due South and due North, respectively . I don't have any dislike. No repairs or shingle replacements have been required for the last ten years in which they have been installed. I have physically walked the roof line in the last couple of years and not found one shingle out of place or cracked to date. These shingles are the best in the business and should last another 20 years or more. I find these shingles as economical as any for the brand name and would not hesitate to recommend them to others. I have had friends and neighbors go with a 'knock-off' brand version of this shingle. In fact, one neighbor had to have his replaced after 7 years and got the same shingles that I have.
---
Date created: 2011-12-08 Location: Scranton, PA
Model: Oakridge

Satisfaction Rating:
Review
:
"Owens Corning Oakridge Shingle Line"
I have owned Owens Corning Shingles for about 16 years now. I had bought the shingles for a previous house I owned as well as the new one I just built 4 years ago. I like the architectural type of shingles Owens Corning offers. They are a little heavier weight of shingle and you don't have to worry about getting straight waterlines since there are none so installation goes much quicker. So far I have not had to repair any and they are rated to last 30 years. They also come in a variety of colors which is helpful for matching your houses side. The bundles of shingles are heavy though. Each bundle is close to 100 pounds so carrying them up a ladder can get tiring fast if you don't have a way to get them to the roof. Overall though I would recommend the shingles and the Owens Corning brand.
---
Date created: 2011-12-07 Location: Napoleon, OH
Model: PM20

Satisfaction Rating:
Review
:
"Money well spent"
We love our Owens Corning shingles! The roofing was affordable and reliable. Since this is a 25 year supreme asphalt roof, we can rest assured that we will not have any problems with it. We would definitely recommend these shingles to other people looking to replace their roofs.
---
Date created: 2011-12-06 Location: Haysville, Kansas
Model: Weather Guard HP

Satisfaction Rating:
Review
:
""I Love my Shingles""
I live in Kansas where "a home on the plains" means two things......wind and hail. A home can have the best looking shingles in the world, but if they can't stand up to heat up to 115 degrees, cold down to 20 below, ice that lifts up the shingles, snow that makes them rigid, 100mph winds and hail that can knock cracks and holes in them, then they are junk. Either way...all this adds up to LEAKS! However, I'm a woman....seriously...If I'm gonna spend 3-4 thousand dollars on a roof...it better look GOOD! These Owens Corning shingles come in a variety of colors (I wanted black) and they look like they are staggered and not flat. The variety in the texture makes the roof look great! Shallow I know, but other homes in the neighborhood had flat step shingles and they looked OLD even when they were BRAND NEW. I thought that was dumb. After a tornado, the isurance company would only pay so much but I sprung for the added cost (about 600 bucks) to upgrade the shingle to the 30 year, 130 mph wind resistant and algae resistant shingles. This roof already had 2 layers on it at the time and the roofer told me that shingles work better in ONE layer only because it is more solid and when the hail hits and it bounces off. Muliple layers create a spongy mattress kind of affect that hail can sink into and make cracks and holes that leak. I told this so my insurance company and because of the specs of the shingles from the company the insurance company also paid for the tear off. Now my singles are now only beautiful, but wind, hail and freezing and heat resistant. On top of that, this higher quality shingle also lowered my insurance premium by 300 dollar a year! That means the extra 600 I spent for the upgrade paid for it's self in two years. These shingles on my home now are 3 or 4 years old and have already survived several serious hail storms and wind storms that had my neighbors on their roof caulking up the cracks and lifted up shingles. I can't recommend these shingles enough.
---
Date created: 2011-12-03 Location: Newark, De.
Model: Duration

Satisfaction Rating:
Review
:
"Happy overall, I would suggest 30 year to anyone"
Overall I am happy with the product. I put them on my self about two years ago and they still look as amazing as the first day I put them up. They also seem a lot thicker then my old shingles. The only down side is I should have gotten something that is Algae resistant.
---
Date created: 2011-06-02 Location: Marion, Iowa

Satisfaction Rating:
Review
:
"WeatherGuard HP Shingles: Well Worth The Cost"
Three years ago I purchase a home that had sat empty for about three years, the result of an estate sale. During the process of completing the extensive renovations it needed my general contractor recommended that I upgrade the roof the was being replaced to Owens Corning shingles. I was surprised by his recommendation of a specific brand; Mark, (the contractor), didn't usually state a brand preference when he was telling I needed work done . After doing some online research I decided on OC's WeatherGuard® HP shingles. The shingles were available in the color I wanted and also qualified for a substantial discount on my homeowner's insurance. The fact they came with a limited lifetime warranty, a 130mph wind resistance warranty and a 10-year algae resistance warranty were also major consideration in my decision to purchase them. The fact that the roofer I had already hired to install my roof was certified as an Owens Corning "Platinum Preferred Contractor" was the final factor in my selection. I've just completed my fourth Iowa winter with this roof and have had no issues with these shingles. In fact the only roofing issue I've had was a problem with ice dams that was resolved by the roofing contractor, at to no cost to me. The shingles are as brightly colored as they were the day they were installed, have suffered several hail storm with no damage and generally have met my expectations. I would, and have, recommended Owens Corning to anyone needing a new roof. The caveat is that I advised them that Owens Corning products are not cheap, so they need to be prepared for the fact they are looking a premium product.